by Benjamin Kerstein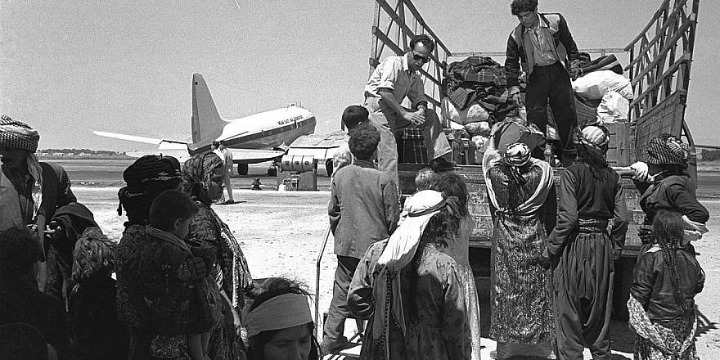 Iraqi Jews arriving at Lod Airport in Israel in 1951. Photo: Israel Government Press Office.
The 50th anniversary of the public hanging of nine Iraqi Jews and the subsequent killing and imprisonment of dozens more was marked by a ceremony held at the centuries-old Sephardi synagogue of Bevis Marks in the UK on Tuesday.
The 1969 Baghdad Hangings and ensuing violence loom large in the collective memory of Iraqi Jews, and are seen as the final straw that led to the near-total exodus of the ancient community, mostly to Britain and Israel.
Sabah Zubeida, head of the S&P Sephardi Community, called the event "the beginning of the end" for Iraq's Jews and a "terrifying time, in which Jews were the easiest target."
The Jewish News reported that Zubeida opened the Bevis Marks ceremony by lighting a candle in memory of his own father.
Rabbi Joseph Dweck, himself of Iraqi descent, told the congregation that "Iraq, particularly, was one of the richest and most fertile areas in the world for Jewish growth, scholarship, and creativity."
Reminding the audience that "for the Jewish people a millennium is yesterday," Dweck noted that "Jewish houses of study stood in Babylonia for 600 years" in what is now modern Iraq.
He spoke in memory of "the glory and grandeur that was Jewish life in that country."
He noted that many of those present were Jews of Iraqi ancestry, and "they're here because after generations of prolific presence, something changed in Baghdad, in Iraq. Their home turned on them, as [it] did the other Jewish communities of the Arab world."
That change, Dweck said, was the rise of European racial antisemitism and its spread to the Middle East. The founding of the State of Israel, he said, "awakened in the east the fear that fueled the virus of antisemitism. Its refueled darkness now spread over the Jewish citizens of the Arab world."
Antisemitic ideas and rhetoric, he said, "tore through the radio waves of Baghdad," igniting the violence that led to the hangings and the horrors that followed.
Dweck admonished his listeners not to despair, however, declaring, "We remember so that we can invigorate our own hearts. We should walk away from this taller, not slouching. Stronger, not sad. And we should look to the future. And we should look to our children. And to where it is that we're going as a people."
As part of the ceremony, candles were lit by relatives of the deceased Samira Elias, Faiza Saigh, and Nouri Dallal, as well as by British Chief Rabbi Ephraim Mirvis, Bishop Graham Kings as a representative of the Church of England and Israeli Ambassador to the UK Mark Regev.