Memoir Of A Young Man's Odyssey To America by Albert Kudsizadeh
---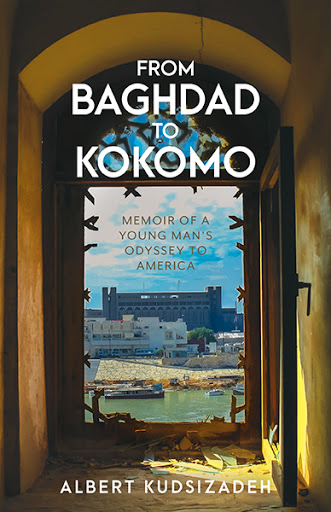 A compelling account of growing up during the mid-twentieth century in the two oldest and once vibrant Jewish communities of Iraq and Iran–the first now obliterated, the second eroded. From Baghdad to Kokomo is part memoir, part history in which momentous events are interwoven with the author's own family biography: Iraq's transition from Ottoman and British rule to hopes for building a democratic nation-state; the emergence of extreme nationalism that ends centuries-old Arab-Jewish co-existence; the Farhoud pogrom in 1941; and the tumultuous exodus of an entire community. In Iran, too, the Shah's modernization policies clash with nationalist and Islamist opposition forces leading to the Islamic Revolution and millions leave or flee the country to settle abroad.
This book also shows the fortuitous circumstances how one pen pal correspondence brought the author from Tehran to the American midwestern city of Kokomo, Indiana, where he arrives penniless as a teenager and resumes his studies after a four year hiatus.
"The Exodus from Iraq, the cradle of civilization, meant the destruction of Babylonian Jewry with its rich history of nearly 2,600 years. Lives were shattered and families scattered. Many of its time-honoured values and traditions –the glue that held it together and gave its unique identity–are now rapidly fading away under the pressure of Westernization…."
Seventy years ago, Jews were a third of Baghdad's population. Today there are no Jews in all of Iraq. Albert Kudsizadeh describes in detail the way they lived—the food they ate, the clothes they wore, the religious rituals they observed and more particularly the family relations they entertained. These pages may be considered ethnological. They are very precious to remember and keep. He also tells us the moving story of his parents, brothers and sisters as an example of all Iraqi Jews who had to seek refuge in different parts of the world. This book is an important document, fascinating to read. ——

Naïm Kattan, OC CQ FRSC, author of Farewell, Babylon: Coming of Age in Jewish Baghdad.

From Baghdad to Kokomo is a thoughtful narrative of the daily life in Iraq before extreme nationalism shattered centuries of co-existence between Arabo-Muslims and Jews and brought the ancient Jewish community of that country to its tragic extinction. For fourteen centuries they shared much in their religious beliefs, social customs, culture and values. This is more than a memoir and should be welcomed by students of the Middle East and Islam who hope for a future beyond present-day political upheavals.——

Abdur Rabb, Ph.D. (McGill), author of A Voice Across the Ocean: The Experiences and Ideas of a New Canadian Originating from Bangladesh and Persian Mysticism: Abu Yazid al-Bistami.

Kudsizadeh, Albert . From Baghdad To Kokomo
Albert Kudsizadeh was born in Baghdad of Iranian ancestry. He completed his secondary education in Kokomo, Indiana and received his PhD from Indiana University specializing in Middle Eastern and Islamic Studies, followed by one year of study at Lund University in Sweden. He taught at the University of Wisconsin–Stevens Point, Concordia University, Dawson College and at the Institute of Islamic Studies of McGill University in Montreal. He was also a Visiting Professor at the University of Haifa. He has lectured and published numerous academic papers in his field. He is now retired and lives partly in Montreal and Boca Raton with his wife Dale where he enjoys time with their grandchildren.
[ Original here ]
Category: Baghdad, Personal History