Like visions of date palms laden with fruit, Purim in Iraq was paradise for children.
"We were excused from school and over the two-day holiday, we'd attend six parties," says Nora Iny, who grew up in Baghdad during the 1960s.
She is now a trustee of Congregation Bene Naharayim, an Iraqi synagogue in Jamaica Estates, N.Y.
Looking back, she recalls the spectacular dinners and lunches people threw for their extended families and friends.
"We had guests in the house all the time," says Jamila Shooker, a Manhattan resident who left her homeland with bittersweet feelings in 1946 after witnessing attacks on Jews. Yet she has vivid memories of aunts and uncles lavishing children with gifts.
More so than during Chanukah, which in Iraq never hit the commercial heights it's reached here, at Purim children received gifts, such as pieces of silver jewelry or coins.
Iny describes her parents and grandparents going to the bank to get two or three new riyals per child, coins worth about 50 cents each.
To escape Saddam Hussein's tyranny, in 1974 she and her family were in the last wave of Jews to flee the country. Although a Jewish culture once flourished there, today approximately 100 Jews live in Iraq.
From the heartland of the Sephardi world, for centuries Iraqis repeated the story of Queen Esther, the brave young beauty who saved her people from annihilation at the hands of wicked Haman.
Although Purim was a spirited occasion, people didn't use noisemakers or stamp their feet at the mention of Haman's name.
"Even in good times, we didn't dress in costumes as children do here," says Iny. "We wouldn't parade or call attention to ourselves. We were afraid to show we were Jews."
Playing cards was the major entertainment at parties, and people often gambled for small change.
"I hated cards and would quit after fifteen minutes, claiming I was tired," laughs Iny, whose fondest memories of Purim revolve around food.
While Ashkenazi Jews adore hamanstashen, the Iraqi signature dish is Sambusk El Tawa, explains Carole Basri, an attorney of Iraqi descent who teaches cooking classes through Sephardic House in Manhattan.
"Sambusk are small pastry crescents filled with chicken and vegetables."
Fabulous as appetizers, they can also be served as the main course. The pastry is el tawa, meaning fried.
"My mother made this dish every Purim," says Iny, explaining how her mother started cooking two days in advance, stopping only when several platters were piled high with crescents. "My sisters and I would eat them by the dozen, never tiring of the taste."
Today vegetarians skip the chicken, substituting chickpeas and cumin instead. This hearkens back to Queen Esther, who some scholars believe became a vegetarian after marrying the King of Persia.
Fearful of revealing her religion at the palace, but determined to remain kosher, Esther was wary of the ingredients in the food she ate. Because pareve foods were her safest alternatives, there is evidence that she delighted in chickpeas.
Beets and turnips graced Iraqi Purim tables, too.
"Simply slice and boil them, then sprinkle with salt," says Shooker. "They're delicious!" From a country where date palms were plentiful, people often topped these root vegetables with date syrup made from straining simmered dates through cheesecloth.
Like Jews the world over, Iraqis also visited friends at Purim, bringing sweets to their hosts.
The amount of desserts was incredible, claims Iny, describing phyllo-rolled almond cookies and baklava filled with pistachios, sugar and cardamom. Her favorite is zangula, donuts prepared by drizzling dough into hot oil.
After frying Zangula, Basri teaches students to dip them in a syrup of sugar, lemon and rosewater, a distillation of rose petals with an intensely perfumed flavor that's been popular for centuries in the Middle East.
No Purim celebration in Iraq was complete without plenty of extra food for all the friends expected to stop by.
"The warmth in the Jewish community was incredible," says Shooker who, in exile for five decades, still misses the sweetest part of life in Baghdad — Purim parties, family and friends.
Recipes by Carole Basri:
Sambusk El Tawa
(Yield: 30 crescents)
Dough
4 cups flour
3/4 tsp. salt
2 pkg. dry yeast
1 1/2 cups warm water (98.6-105 degrees)
1 Tbsp. olive oil
Combine flour and salt.
In another bowl, dissolve yeast in water for about five minutes, until proofed (foamy). Add to flour. Slowly add additional warm water to form a sticky dough.
Remove dough to a floured counter and knead until smooth. Coat a large bowl with oil and place dough inside. Cover with plastic wrap until dough doubles in size, about 45-60 minutes. Prepare chicken filling.
Chicken Filling
1 large onion, diced
1 Tbsp. olive oil
4 pounds cooked, diced chicken
1/2 cup frozen peas
Salt & pepper to taste
2 cups corn oil
Saute onion in olive oil until translucent, about 3 minutes. Add chicken, peas, salt and pepper. Cool.
Place dough on floured counter. Roll dough 1/8 inch thick. With a 3-inch round cookie cutter, cut circles of dough and place on an oiled cookie sheet.
Place 1 tbsp. of filling on each circle. Fold in half and seal tightly by pressing edges together.
Heat corn oil in a deep skillet to 375 degrees. Fry a few pieces at a time until golden brown. Drain on paper towels.
Zangula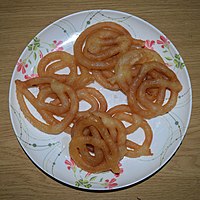 (yield: 14-16)
Dough
1 1/2 cups flour
1/4 tsp. salt
2 pkg. dry yeast
1 1/4 cups warm water (98.6-105 degrees)
2 cups corn oil
You'll need a plastic squirt bottle as well
Combine flour and salt.
In another bowl, dissolve yeast in 1/2 cup warm water for about five minutes, until proofed (foamy). Add to flour. Slowly add remaining water to form a creamy, sticky dough.
Coat a large bowl with 1 Tbsp. oil. Cover with plastic wrap for 30 minutes. Prepare syrup.
Syrup
1 cup sugar
3/4 cup water
Juice of 1/2 lemon
1 Tbsp. rosewater (sold at Indian and Middle Eastern stores)
Combine sugar and water in a saucepan. At medium heat, stir until sugar dissolves and mixture thickens. Add lemon juice and rosewater, cooking one minute. Cool.
Place dough into squirt bottle. In a large frying pan, heat remaining oil to 400 degrees. Squeeze dough into oil in circles and swirls. Turning once, fry until both sides are golden brown.
Remove to paper towels. When cool enough to handle, dip into syrup and serve.
[ original here ]