by Gilgamesh Nabeel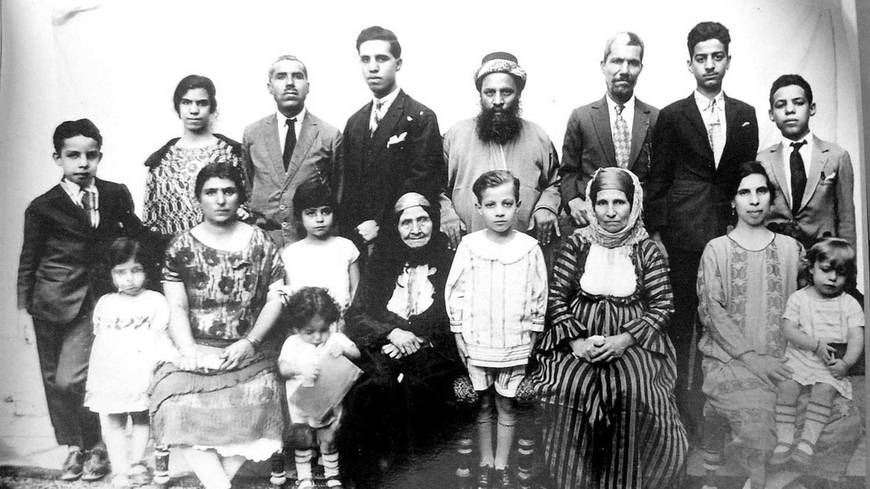 After seven decades of alienation, Iraqi Jews use culture to build bridges with their non-Jewish countrymen and vice versa. 
Through Baghdadi folk songs and lullabies, British-born musician Carol Isaacs sailed with dozens of Iraqis and Britons from London all the way to her motherland in Mesopotamia.
"The Wolf of Baghdad," held at the SOAS University Jewish Music Institute on Feb. 18, is the artist's own audio-visual journey to revive Iraq's vanishing Jewish community that formed one-third of Baghdad's population in the 1940s.
London-based Iraqi-British Munder al-Khudairi, a marketing and advertising professional, attended the event along with many other Iraqis of different backgrounds to explore the tragedies of a lost homeland.
"Some of my family members left Iraq in the same manner, leaving their wealth and history behind," said Khudairi, adding, "I relate to their struggle. Iraq is a refugee manufacturer."
Upon exiting the hall, Iraqis talked amongst themselves more than they did while they were inside.
"We heard stories of grandparents switching on the lights and candles for Jewish families, and Iraqi Muslims and Christians helping Jewish families escape and get their money outside of Iraq," said Khudairi. He added, "The positive point is that Jews have now opened up about it, as they used to be reclusive. This will build better understanding and form stronger bonds."
While the Islamic State (IS) was terrifying Iraqis, the SOAS Center for Jewish Studies held an event in November 2014 to screen and discuss "Shadow in Baghdad," a film that tells the story of Linda Menuhin Abdul Aziz, an Iraqi-Israeli journalist who escaped the upheaval of Iraq in the 1970s, and her unexpected connection with a Baghdad-based Iraqi journalist and their collaboration to explore the fate of her missing father.
On that evening, Ali — an Iraqi-British pharmacist — and two of his friends were the only non-Jews in the hall.
"I was moved by the film and almost cried," said Ali, who asked Al-Monitor not to disclose his identity. "Still, there was some harsh criticism when [IS] atrocities against the Yazidis were mentioned. I did not like being grouped with fundamentalists or being judged because of my religious background."
Ali spoke to Linda and admired her Iraqi dialect. Just like the rest of the audience, she was skeptical of and surprised by his presence there. Ali was asked if he really cared about them. He noted that fear and mistrust remain prevalent: "Shadows of the tragic past are still hovering," he said.
For Ali, this first encounter with Jews was an exploratory journey of the other side.
"I started questioning the narratives of both sides," he said, adding, "We are more similar than we know. We have more things in common that make you want to know more."
Ali never regretted the step he took out of curiosity, and later on he brought gifts from Baghdad to his Jewish friends in London.
"After 2003, many Iraqi Jews rebuilt connections with Iraqis; this is quite understandable. But it took me some time to understand why Iraqis are doing the same," Idan Barir, a research fellow in The Forum for Regional Thinking, an Israeli think tank, told Al-Monitor. "Many young Iraqis have never seen a Jew in their lives. They were exposed to huge propaganda against Jews. This made them curious about them and keen to check the narratives they were raised on," Barir added.
For young, often secular, Iraqi intellectuals, what happened to Jews is a reminder of what is happening and could happen to them in modern Iraq.
"It is a lesson that needs to be learned to build a better Iraq," said Barir, who has been working with the Yazidis since 2005 and is involved in initiatives to liberate Yazidi women held captive by IS. "The number of minorities in Iraq fell dramatically. Young Iraqis are concerned and looking for ways to maintain diversity and pluralism — the only way to save Iraq's real identity."
Thanks to social media and the mutual longing, the mental barriers of fear and mistrust between non-Jewish Iraqis and Iraqi Jews are collapsing quickly, said Aydin Yaqubi, a 25-year-old Iraqi-American student, who agrees with Barir that the sense of curiosity is a primary driving force to get to know the "other" side.
Last August, Yaqubi went on a "journey for reconciliation with self" to Israel.
"The seven-decadeslong conflict and the erroneous way the Iraqi Jewish community was expelled made the majority of them feel a sense of anger, disappointment and complete detachment from their Iraqi identity," Yaqubi wrote to Al-Monitor, adding, "This trend has been vastly reversed. Now, many are trying to reconcile with their heritage. They all heard stories from their Iraqi-born relatives of coexistence and familial relations with the Iraq Muslim majority."
Likewise, Iraqis hear collective familial stories about their Jewish neighbors.
"Many display an apologetic sense of collective guilt and sorrow due to the mass expulsion of the Jewish community in the 1950s," Yaqubi said.
This longing, in particular, took Ali — the London pharmacist — to Israel in 2015 despite his family's political stance and safety concerns.
"I went to explore the lost Iraq in the heart of Israel," he said, adding, "I met many Iraqi Jews and was overwhelmed by their hospitality. They took me to visit their grandparents, and I tasted tibeat [traditional Jewish chicken stew served on the Sabbath in Baghdad]. It was a perspective-changing journey."
While many Iraqi Jews long to visit Iraq, Baghdad-born businessman and philanthropist Edwin Shuker followed his heart and returned to Baghdad 40 years after he fled the country. Visiting Erbil, Baghdad, war-torn Mosul and Babylon, Shuker feels the weighty responsibility to preserve the 2,700-year-old legacy of one of the oldest Jewish communities to ever have existed.
Despite the haunting memories of the Farhud massacres of Baghdad's Jews in 1941, Joseph Braude traced his Baghdadi mother's roots and mastered Arabic.
"It is nostalgia to my maternal roots," said Braude, an expert on culture and politics in Arab societies at the Washington Institute and author of "Reclamation: A Cultural Policy for Arab-Israeli Partnership." He added, "I am proud of the environment I was raised in because it gave me the chance to learn this great language."
Braude sees hope in a growing minority of Arabs who express regret about the departure of Jewish populations from Arab lands and use culture to build bridges.
In 2017, Vered Susanne Cohen-Barzilay, a half-Iraqi half-Turkish social entrepreneur, called for using literature to combat hate speech.
"Literature allows us to know people, meet them physically and even explore the forbidden cultures," she wrote, adding, "It helps us to get to know them better and feel their suffering and success."
Barzilay's dream was realized when her colleague Tsionit Fattal Kuperwasser's novel made its way to the 46th Baghdad International Book Fair this month.
Kuperwasser's "The Pictures on the Wall" debuted in Hebrew and was published in Arabic by Mesopotamia Publishing House in 2017.
"It talks about the Baghdad Jewish Community where my parents were born before their emigration in 1951," she wrote to Al-Monitor. "Having my book published in Baghdad made me feel some closeness since it allowed my characters to return to their place of birth," Kuperwasser added.
Ignoring the recent threats by Iraqi militia leaders against intellectuals approaching Israelis, deeming it an act of espionage, many Iraqi poets and writers publicly shared pictures of themselves with Kuperwasser's book.
"My book was the No. 1 seller at the Mesopotamia Publishing House," Kuperwasser wrote. "Still, I feel saddened faced with the political reality that does not allow me to attend the fair, meet my readers and sign my books. I hope that the literary bridges built in the last years will someday become physical so I can meet my audience in Iraq," she said.
[ original here ]
Category: Iraq, Preservation Promotion Education