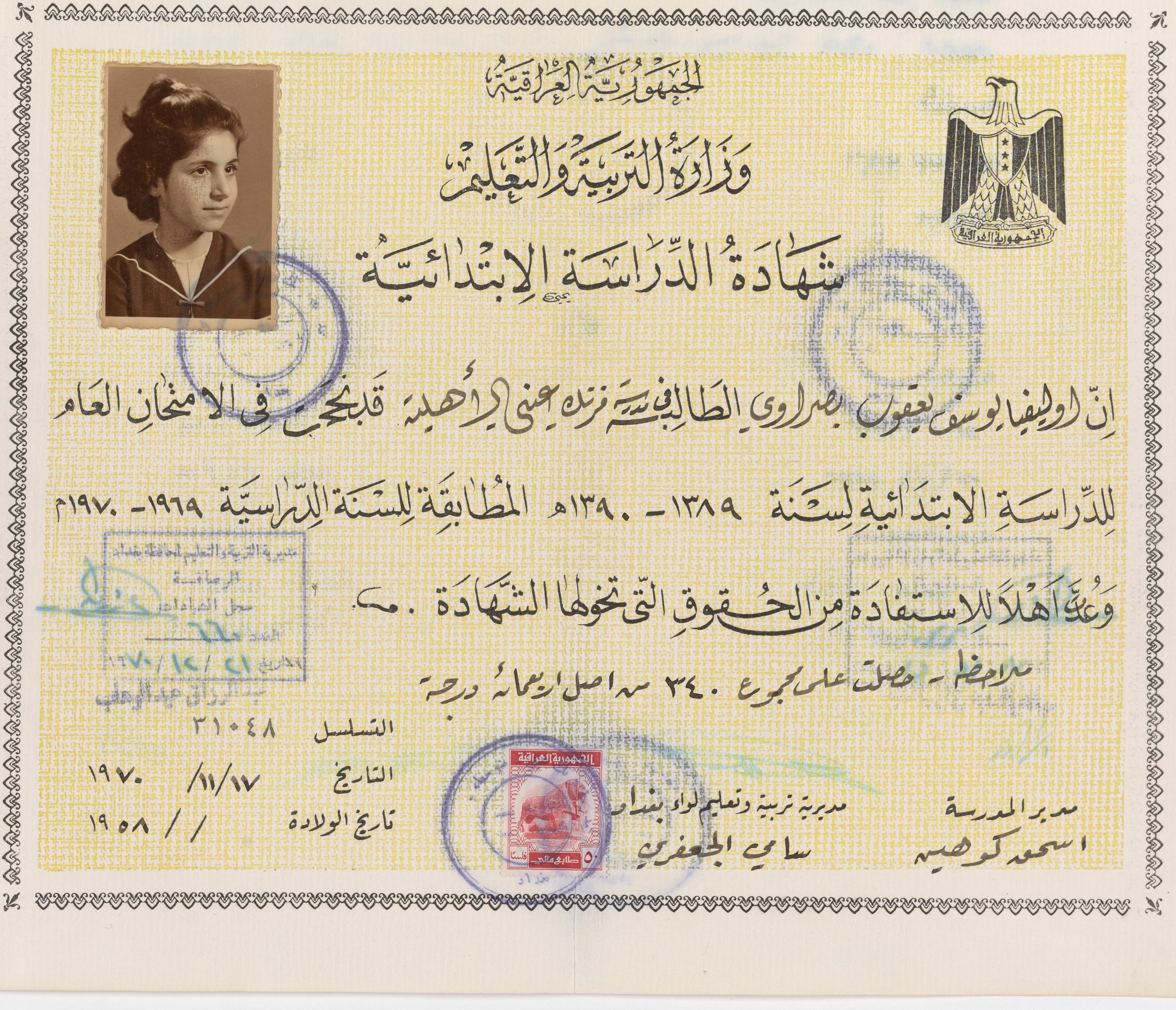 Iraqi Jews are sure the Iraqi Jewish Archive belongs to them, and they're determined to get it back. Meanwhile, Iraq is holding firm to the claim that it owns the archive, which it sees as an important commemoration of a rich past destroyed by Saddam Hussein. I asked Iraq's ambassador to the United States, Fareed Yasseen, if the country intends to make any reparations to the Jews it forced into exile, or their descendants. "You do that," he said, "the first thing people would say: Well, what about reparations to the Palestinians?"
His response hints at a decades-old policy that has helped shape the fate of Palestinians and Iraqi Jews, as well as the many other Middle Eastern Jews exiled by their countries of origin in the years following the creation of Israel.
"Linkage" — the policy of treating compensation of Palestinian refugees as in some way dependent on the compensation of Jewish refugees from Middle Eastern countries — had been long in the making. Its first iteration suggested a population transfer: Iraqi Jews would be settled in Israel in exchange for exiled Palestinians being settled in Iraq. The property of Iraqi Jews would be exchanged for the Palestinian properties of which Israel had taken possession in 1948. Accounts of the manner in which that proposal was made differ; either way, it didn't survive long. Yet the policy of linkage has persisted, in a variety of iterations, to this day, despite going in and out of fashion.
Linkage, like most every matter related to Israel and the Palestinians, has become subject to strident recriminations between officials and academics of varying political allegiances. Israel has had difficulty proving that the assets Middle Eastern Jews either lost or had seized by their home countries' governments are of comparable value to the assets lost by Palestinians, leading some to speculate that Israel has used linkage as an excuse to delay compensating Palestinians for their losses, rather than as a practical policy intended to eventually redress the economic losses of both parties. It is difficult to engage in this conversation without coming to the question of who bears responsibility for the mid-20th-century exodus of Middle Eastern Jews, a topic that can be kindly described as toxic.
A relatively small portion of the Iraqi Jewish Archive consists of items of serious monetary value. But as the archive comprises the first items of Jewish property to be legally removed from Iraq in several decades — aside from the very sporadic gains taken by smugglers — decisions made by the United States and Iraq about its future could have potentially broad effects on a variety of spheres: The political relationship of America and Iraq; American foreign policy; Israeli foreign policy; and the larger landscape of cultural judgment about who, in the Middle East, owns and owes what.
International restitution — the return of stolen or looted property to its rightful owners — is a complicated field, in terms of both law and collectively agreed-upon protocol. The case of the Iraqi Jewish Archive is unique in that its transfer to the United States was a legal extraction, agreed upon by the governments of both America and Iraq. But it is also, in many ways, a symbolically important precursor for a wave of cultural and economic disenfranchisements that will soon need to be addressed. When the civil war in Syria someday ends, for instance, how will governing bodies account for the redistribution of stolen property among the enormous population of Syrian refugees — whatever of it, after massive destruction, remains?
The Middle Eastern Jewish community sees the archive as symbolically important for another reason: The Cultural Heritage Center, a branch of the State Department's Bureau of Education and Cultural Affairs, has recently signed a variety of agreements with governments including those of Libya, Syria and Egypt imposing import restrictions on items of cultural significance from those countries. Primarily intended to dissuade looting, those agreements have occasionally included Jewish property among the Middle Eastern items not allowed entry to the United States. "This is part and parcel of this whole issue," Waldman said. "If Iraq is claiming that this is part of their heritage, then all these other countries are also saying the Jewish heritage is also ours."
"The United States has entered into agreements with these regimes legitimizing this theft of Jewish property," said Marc Lubin, a consultant who has advised JIMENA on its political advocacy efforts regarding the archive. "Much as America recognized that the U.S. must lead the effort to restore the property of Holocaust victims, so, too, the U.S. should cease support for these thefts."
For Jewish purposes, the most significant of the current agreements is that with Libya, the only one so far adopted by the Trump administration. While a December, 2017 emergency agreement prohibited the import of Jewish manuscripts, the February, 2018 agreement that replaced it covers no items of Jewish heritage.
Still, some continue to perceive a link between the agreement to return the archive and the apparent affirmation, in select bilateral agreements, of Middle Eastern countries' claims to Jewish property. "At the end of the day, 850,000 Jews are now completely gone from the Arab countries," Waldman said. "We have been stripped of everything. The only thing left is our dignity. This is why we're fighting for this. It's about ownership of what is ours."
ALL THEY HAVE LOST
Doris Sheena Zilkha, 65, stayed in Iraq through the 1950s and '60s. When the 1967 Six Day War ended, she said, the Iraqi government turned off Jewish families' telephones "the minute they knew they lost." Jews were removed from their jobs en masse. Her family began a months-long ritual of fasting every Monday and Thursday, praying for a shift in fortunes. Zilkha, who has curly hair and a flair for color — when we met at Bene Naharayim she wore a purple leather jacket and coral nail polish — was 14. In four years she would leave Iraq for Israel by way of Iran, to be followed the next year by her parents.
Zilkha escaped Iraq with family friends who, even as they planned to take her with them, were too scared to admit they were leaving.
"I'm not supposed to cry on Shabbat," she said, lifting her fingers to her eyes. In 1967, as news of Israel's victory broke, she had a child's resonant sense of a great change beginning.
"I stood under the window and I was crying," she said, "like everything is coming to an end."
For exiled Iraqi Jews and their descendants, the archive chronicles a lost life, an intimate history that, if returned to Iraq, will become physically inaccessible. "This is the blueprint of our heritage," said Jamil Heardoon. The archive, said Jenny Jangana Haim, 53, is "a testament to our lives and culture. If you take it away, there will be so much less to show future generations."
But for proponents of repatriation, the archive chronicles a past Iraq that remains historically important, despite the fact that Iraq's government and citizens voluntarily provoked the end of that history. "Iraq, both its people and its government, are very much attached to its diversity and its rich history," said Ambassador Yasseen. "Part of that is Iraq's Jewish tradition… I still cling to the hope that the relationships will be restored and that the Jews that left Iraq would find opportunity to visit."
Iraq plans, Yasseen said, to exhibit the archive upon its return in a "museum-like entity" that he hopes Jews might someday be able to see.
This divided perspective is common when it comes to the stories of Jews forced out of Middle Eastern countries. The sweeping narratives of exile can obscure the intricate emotional affiliations of each individual life, Jewish and otherwise, affected by those losses and gains. Iraqi Jews lost a country, a lifestyle, access to a long and rich history, the daily markers of deeply inhabited personal and communal lives. They found themselves in countries in which they could largely be assured that their lives and livelihoods would not be at risk. Day by day, that equation doesn't mean much. What stays crystalline is this: The feeling, never to be fully shaken, that heralds the first knowledge of a change that will never be corrected. The grief of leaving family behind. The terror of going somewhere unknown, knowing a return will be impossible. And then, after decades, the fierce and sometimes devastating hope that something thought permanently lost might be regained.
"We left our house, our belongings, our assets in the bank" said Lamaan Heardoon. "A beautiful house."
I asked her what it was like for her to raise her daughters in the United States, so far removed from the place where, over millennia, their heritage was crafted.
"I'd like to go like an eagle," she said. "Invisible, nobody can see me. I put each daughter on one wing, and I show them the house, the school, the river, history. Because really, they cannot go back there and see it."
[ original here ]
Category: Baghdad, Heritage, Justice for Jews of Arab Countries, Preservation Promotion Education