by Talya Zax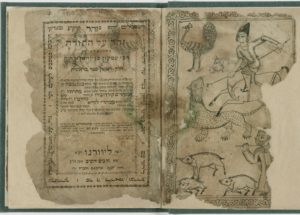 On a leafy parkway in the Jamaica section of Queens, there is a house that is no longer a house. It's one of New York's two Iraqi synagogues: Bene Naharayim. The building doubles, in some ways, as a museum. The sanctuary houses 18 Torahs kept in elaborately decorated wooden cases known as tiks. A staircase is lined with black-and-white photographs of banquets from a past era. Glass-doored cabinets hold menorahs, jewelry, photographs of school classes and ketubahs, or Jewish prenuptial agreements. A basement hallway honors the great Iraqi rabbis of the 19th and 20th centuries. Objects that might not ordinarily be considered worthy of display are lovingly tended. For a community in exile, they are rare relics of a vibrant former life.
One Shabbat in April, as forsythia and magnolia bloomed on the lawn of Bene Naharayim, Violet Bakhash, 100, bedecked in a black suit, sequined sweater, elaborate gold rings and jeweled earrings, picked at the remains of a Kiddush lunch consisting of traditional Iraqi Jewish foods, including eggs tinted brown after cooking in a broth made with onion skins.
In 1952 Bakhash was 34, a mother of two, part of the last generation to witness an age of Jewish prosperity in Iraq — and the first to witness that good fortune's end. She and her husband decided to follow nearly 120,000 of Iraq's Jews, which then numbered about 135,000, and leave their home. They chose to immigrate to the United States instead of Israel.
"I left my two older sisters, my brother, my father," Bakhash said. In the early 1970s, when Iraq's government briefly allowed Jewish emigration after a post-Six Day War upsurge in state violence against Jews, Bakhash's brother fled. So did her elder sister and her children. In 1991 another sister, the only one who stayed, was killed.
Bakhash adjusted to life in the United States. A small, lively Iraqi Jewish community sprang up on Long Island, carefully preserving traditions that dated back nearly 2,600 years. But Bakhash still misses the richly textured Jewish life that characterized the Baghdad of her youth.
"In downtown Baghdad, in every alley there [are] three synagogues," she said.
As the Jews left Iraq over the last half of the 20th century, forced to surrender nearly all their personal and communal property in the process, those synagogues, with their rich cultural history, became the property of the state. In 2003, during the first year of the Iraq War, a group of American soldiers from the army's Mobile Exploration Team Alpha, accompanied by some members of the Iraqi National Congress, found a trove of relics from those synagogues and other lost institutions of Iraqi Jewish life in the flooded basement of the Al Mukhabarat building, which had been Saddam Hussein's intelligence headquarters. Iraq at the time lacked the capacity to restore the damaged items, so they were brought back to the United States for restoration.
A haphazard reflection of the rich history that Iraq's Jews were compelled to leave behind, the trove, now known as the Iraqi Jewish Archive, is a mix of the sacred and mundane, from Torah scrolls to telephone books.
In the 15 years since the archive came to the United States, as Iraqi Jews worked painstakingly to keep their traditions alive, they watched the international community focus more resolutely on the restitution of cultural property looted or stolen during the Holocaust, and wondered why the same standards seemed not to apply to them. They watched Saddam Hussein, who had overseen public hangings of Jews in 1969, be hung for his crimes, then watched Iraq struggle to craft a democracy after dictatorship. They watched years of peace talks between Israel and the Palestinians fail to produce meaningful change; they watched wars throughout the Middle East broadly endanger the region's cultural heritage.
Through all this, the 3,000-odd items of the archive were carefully preserved from the outside world. But world affairs have given them a new and unexpected meaning. Those same global shifts that Iraq's exiled Jews witnessed from afar have made the archive an unlikely avatar for conversations about foreign policy and history that have the potential to create widespread repercussions.
To the dismay of the community, which has carefully preserved each proof of history left to it, those repercussions may be imminent: In September, despite efforts to retain it in the United States, the archive is scheduled to be sent back.
WHO OWNS THE ARCHIVE, ANYWAY?
"They have no right to give it back," said Carole Basri, "because it's not theirs."
Basri, an adjunct professor of law at Fordham University and a documentarian whose work includes a film about Baghdadi Jews, is leading the Iraqi Jewish community's legal effort to keep the archive in the U.S. She thinks there's a legal case for breaking the agreement, she told me, rooted in Provision 17 of the United Nations' Universal Declaration of Human Rights. "You cannot take property from people illegally," she said, paraphrasing the provision.
For the Iraqi Jewish community, there is no question about who owns the archive. The same is true for Iraq. "We cannot and will not relinquish ownership of the archive," said Fareed Yasseen, Iraq's ambassador to the United States. (Yasseen, who I spoke with at his Washington D.C. residence in July, took over the ambassadorship shortly after the 2016 election. A soft-spoken physicist, he briefly attended an Iraqi Jewish school in Baghdad as a child.)
By the middle of the 20th century, the Jewish community in Iraq had been in continuous existence since the Babylonian exile of 596 BCE. The status of Jews had fluctuated in the early 1900s, but the community's great troubles began in 1948, with the creation of Israel. In May of that year it became a capital offense for Iraqi Jews to immigrate to the newly recognized Jewish state, and many were arrested under suspicion of helping others attempt to do so. Over subsequent months, further strictures were enacted; policies mandated that Iraqi Jews who had immigrated to Israel and did not immediately return would be declared criminals and tried by military courts in absentia. A number of the people put to trial, including those who had immigrated legally, were symbolically sentenced to death.
Despite the heavy penalties attached to attempted escape — for example, imprisonment and hard labor — Jews continued to take the risk, often heading for then religiously open-minded Iran.
Then, in March 1950, the Iraqi Parliament passed a law that would allow Iraqi Jews to legally emigrate to Israel but strip those who did of Iraqi citizenship. Strict limits were placed on what these Jews were allowed to bring with them when they left. Individuals were permitted to carry 66 pounds of luggage, with a limit of 400 pounds per family. All jewelry had to be left behind, with the exception of wedding rings. Each person was also allowed to bring a minimal amount of cash in specific amounts that depended on their age.
Over the next several months, until August 5, 1951, Israel conducted a massive airlift of new emigrants out of Iraq, known alternatively as Operation Ezra and Nehemia and Operation Ali Baba. By the end of 1951, it was estimated that over 121,000 Jews had fled Iraq. The state seized the property they left behind. The majority of the Jews who remained in Iraq after 1951 departed in the early 1970s, after Saddam Hussein's government cracked down on the Jewish community in the wake of Israel's victory in the Six Day War. In 1969, nine Jews were hanged publicly, to massive celebrations, after which the regime arrested, subjected to show trials and tortured many others.
By 2008, only about 10 Jews remained in Iraq.
One reason the ownership of the archive appears to be up for debate is that the majority of the Jews who left Iraq did so voluntarily, but under duress. That was also the case for many European Jews who fled the Nazi menace, and the decades-long work of Holocaust reparations has established a mixed precedent as to what can and ought to be done with their property.
Ambassador Yasseen declined to discuss the grounds on which Iraq claims ownership of the archive. I asked Gina Waldman, president of the advocacy organization Jews Indigenous to the Middle East and North Africa (JIMENA) how the Iraqi Jewish community can claim ownership of materials left behind when their owners chose to leave.
"This was what was considered communal property," Waldman said. "No one person could sign off and say, well, this synagogue now belongs to the Iraqi government."
Basri, in an article outlining a legal argument for the United States to refuse to return the archive, refers to U.N. Resolution 242. Passed after the Six Day War, that statute calls for a "just settlement of the refugee problem." Yet the Iraqi Jewish community has limited legal opportunities, says Patty Gerstenblith, director of DePaul College of Law's Center for Art, Museum and Cultural Heritage Law. The State Department, Gerstenblith said, granted the archive a status known as immunity from seizure, meaning that courts cannot hear cases or issue orders about it. "Doesn't matter if it's stolen property," she said.
That leaves only one option, which would be for the community to bring suit against Iraq. It's unclear if such a claim could be heard in American court. "Usually," Gerstenblith said, "when a government takes property away from its own citizens that's not a violation of international law."
What about the example of Holocaust restitution? Objects looted during the Holocaust can be recoverable so long, Gerstenblith said, as suits are brought by clearly identifiable owners. A less direct precedent has been set for communal property. "In a sense, the Holocaust expropriations have been treated as a unique set of cases," Gerstenblith said. "Having said that, there's no reason that a court couldn't extend that to another historical circumstance."
The Iraqi Jewish community has yet to attempt any legal action. In the short term, it's unclear if they'll have to, as the State Department would not comment on plans for the archive's return. A spokesperson specifically declined a request to confirm that the current administration intends to return the archive in September, as scheduled. If the return is delayed, it won't be for the first time.
[  original here ]
Category: Baghdad, Heritage, Justice for Jews of Arab Countries, Preservation Promotion Education